It's that time again! Sorry, I've been a little behind in posting these updates for those who enjoy reading them. I've been completely swamped with work lately, which is good news!
I survived the mad dash to write and get Hiders out the door for its January release. That was intense, let me tell you. I think I ended up writing most of that book in a month. It's a bit shorter than my normal works, but in all honesty, that's just the way the story fell. I had no time to add in extra scenes or anything, and I think the book is stronger for it. I love it. Violet and Arie are some of my favorite characters.
The Canaan Island series is very outside of my normal contemporary fantasy genre/brand. I think a lot of readers who find me because of Fakers are very confused when they find that my other books are in the vein of Fear University, which is about as far from a beach read as you can get. Haha! So in that sense, I'm putting the Canaan series on hold for a while. I may do another book or two as I have time, but they won't really be a top priority. But, seriously, if you're reading this and you love my Canaan books the most and you want more from that series, let me know! I base my schedule around what you tell me to write. I've been hearing lots of Fear University requests, so my focus has been there. But I listen, I promise. So comment here or email me. Just let me know, y'all 🙂
Some of you may have seen that I'm drafting the fourth Fear University book right now. In case you missed it, here is the title reveal along with the release month: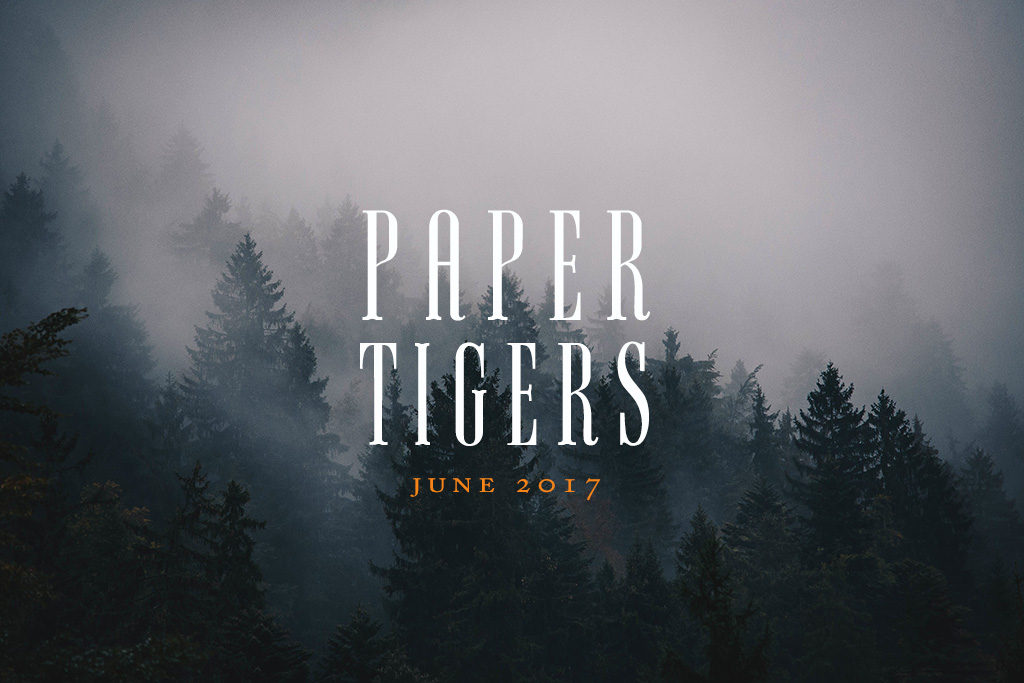 You guys. I have that image as the wallpaper on my computer. I'm not even kidding. I'm so, so happy to be back in this world and writing these characters again. I honestly needed a break from them after Monster Mine. That book seriously broke me. I think I talked about it in my Writing Update 1 or 2. I can't remember. But I'm so happy to be back in the world again and writing the characters.
As of now, I'm 26k into the draft (estimated completion at 80k). This week (March 6-12), I've taken a brief pause in drafting to hit my copyediting deadline for Lux and Lies on the 12th. But once LL is turned in, I'm back to Paper Tigers full time. I'll be on another crunch deadline to have PT finished and turned into my editor by April 17th. But I'm not worried. This book feels so natural, like I'm returning home in a sense. I love it.
So Lux and Lies. The infamous LL. Some of y'all who have been with me for a while know that I've been working on this book for YEARS. No joke. I wrote it in 2014, but it was broken. Like, the brokest of broke. To say I've written and trashed tens of thousands of words is not an understatement. But I'm finally getting there with it. I brought in a developmental editor to help me hit the reset button on the manuscript. It was exactly what I needed. And my wonderful critique group is saving my life. The poor things. They've had to read the opening chapters of this book SO MANY TIMES. But I'm getting there. I'm uncovering the story this book is supposed to tell, and I love my sweet protagonist so much. She's quiet and timid but she watches. She sees everything. And when you least expect it, she's there and she's outsmarted everyone in the room. I can't wait to share this story with you all. It's a bit different for me. It's a young adult sci-fi thriller, but seriously, you all will love it too. I promise.
Of course, as if all that weren't enough, I'm also working on a sneaky little side project. I'm not going to give away too many details yet, but later this year, I'll announce it. Suffice to say, I hope you all are going to love it as much as I do. It's deliciously decadent 😉
Licks for all your faces,
Meg 😛