Doubling or Tripling your Amazon Categories Using Keywords
So I stumbled across a very similar article on Lindsay Buroker's website. She gives AMAZING advice, so I highly recommend you bookmark her website and visit it often. Her post on getting into more categories using keywords totally changed my approach to keywords, which is why I wanted to share that with y'all today!
I went from being in three categories with my books (2 Kindle ebooks categories and one Book category) to being in eight with The Hunted One and nine with The Lost One.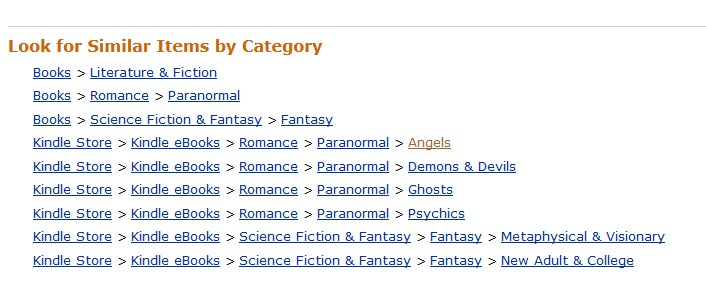 I wanted to share this technique with everyone, because I think it is really pivotal in getting in more categories, which means you have the opportunity for more visibility on different lists.
If you are unfamiliar with picking categories based on competitiveness and the ability for you to rank in the top 100 Bestseller in that genre, I would suggest reading David Gaughran's Let's Get Visible. He talks about that in this amazing book.
Don't count on people finding your book by browsing on Amazon. Try to get on as many bestseller or top rated lists as you can. And now Amazon has top rated and hot new release lists broken down by the genre too!
So back on topic. Go to this website on KDP and start looking through the keywords based on the two categories you picked when publishing your book. I picked "Romance > Paranormal" and "Science Fiction and Fantasy > Fantasy" for my categories for The Lost One. So when looking at possible keywords, I picked the ones in those categories. You're aiming to get into secondary categories, like "Romance > Paranormal > Angels" by using a keyword 'angel' and "Romance > Paranormal > Demons and Devils" by using a keyword 'demon.'
Make sense?
In the beginning when I picked keywords, I tried to pick something that readers would type into the search field to find my book. But that didn't really help. My keywords were weird and obscure. More and more people are discounting the value of keywords. However, by using keywords to target categories, you're assigning value back to the keywords.
I think this technique is great for new authors just starting out in hard categories, like erotica or contemporary romance. This is a great chance for you to think outside of the box and get your books into a position where they can be discovered.
At this point, every little thing could help!
Doubling or Tripling Your Number of Categories on Amazon