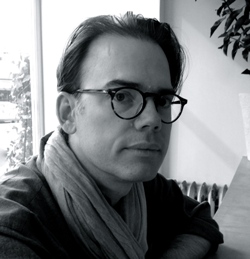 Meet Mark T. Conard. Not to be confused with Mark Conard. If you email [email protected], you will get a kindly older gentleman who sets you straight on your error and directs you to [email protected].
My bad. Sorry, bro.
Mark T. Conard earned his Ph.D. in Philosophy from Temple University in Philadelphia, and is now Associate Professor of Philosophy at Marymount Manhattan College in New York City. In addition to writing fiction, he's the co-editor of The Simpsons and Philosophy (2001), and Woody Allen and Philosophy (2004), both published by Open Court Press; and is editor of The Philosophy of Film Noir (2006), The Philosophy of Neo-Noir (2006), The Philosophy of Martin Scorsese (2007), and The Philosophy of the Coen Brothers (2008), all published by The University Press of Kentucky. He listens to jazz, is known to drink bourbon, and enjoys fine cigars. He in fact does have a friend, believe it or not, and his favorite invaders of Rome are the Visigoths. In addition, he's fond of loud, piercing noises, boating accidents, and non sequiturs.
After reading that bio, I realized two things. Mark is smart. He even looks smart. Consider me intimidated. Secondly, this scotch stuff surprises me. I asked Mark if he thought he was a cowboy or something. Mark set me straight – cowboys drink whiskey and pipe-smoking, tweed-wearing detectives drink scotch. Right.
I asked Mark to recommend a brand of scotch I will never try.
Mark: My favorite go-to bourbon is Knob Creek, but there are lots of good ones out there: Woodford Reserve, Blanton's, Booker's, Bulleit (a lot of 'Bs'), Maker's Mark.
Mark acknowledges that it is somewhat cliché that he drinks scotch and writes suspense novels.
Okay, I'll get on track here. I asked Mark how he got started writing.
Mark: I started writing short prose pieces and bad poetry when I was in college and then grad school. Writing suspense fiction in a way happened accidentally. I had a friend and drinking buddy when I was in grad school in Philly. He told me he was working on a screenplay, and I was intrigued by that idea, so we decided to work on one together and started kicking some ideas around. We didn't have any particular genre in mind, but a story developed over many drinks, and finally we came up with a plot outline for a mystery/suspense story. He left it to me to turn into a screenplay, which I didn't know how to do, so I set it aside. One summer, years later, I pulled it out and started writing it as a novel (since I at least knew what a novel was supposed to look like). I hadn't read any crime or suspense fiction before that, so I started reading in the genre at that time as well. That was my introduction to authors who became my major influences: Elmore Leonard, Jim Thompson, Raymond Chandler, James Ellroy, and David Goodis. I developed the outline for the story, figured out the characters, wrote and rewrote, and finally I finished it. I enjoyed the process so much that I started on a second one right away and have continued ever since.
I have to say that I loved that answer. I enjoyed hearing that Mark's path to writing was as genuine and organic as they come. Inspires confidence, right? I'm feeling it.
Speaking of feeling it, I took a philosophy class once, and I literally felt a pain in my head. Needless to say, I dropped the class. Then dropped out of college. Don't worry! I finished eventually. I asked Mark how his philosophy background influenced his writing.
Mark: I've attempted from time to time to infuse particular philosophical ideas into my fiction, but so far I haven't been very successful. It usually feels forced. That being said, philosophy as I understand it is a matter of living the examined life, to paraphrase Socrates. Training in philosophy gives one an enlarged and richer understanding of the world and human existence, and I try to bring that understanding to my writing. Further, philosophy hones your analytical and critical reasoning skills, and these are very useful for plotting out stories and solving plot problems, etc.
Me: I see you have co-written and written a wide array of books. What was the inspiration for that?
Mark: I take it you mean the works I've done in popular culture and philosophy. Those spring from two related ideas or impulses. The first is a desire to make philosophy more accessible to a wider audience by examining traditional ideas via texts in popular culture like television shows and movies. The second, which is related, is a belief that these elements of popular culture are worthy of philosophical analysis themselves. So that's what the essays in these volumes do. They either explore philosophical ideas through a pop culture text or analyze a text philosophically, and all with the hope of making philosophy more accessible to non-specialists.
Ha! "Non-specialists." Yeah, I'd claim that description. So, Mark goes from philosophizing the Simpsons to his current works – Dark as Night and Killer's Coda. I have to say, suspense writers impress me. I asked Mark how he got in the head of the fat, twitchy, lowlife character from Dark as Night.
Mark: I don't have any specific method for devising and developing characters. When I first started writing, I sometimes used people I knew as models for some characters, and often times there was a chunk of me in the protagonist. I don't think that's the case anymore. I just use my imagination to come up with the right characters for that particular book. Over time you hone your intuitions about these things, I think, just like your ear gets better and better, such that you can hear when the prose sounds right.
Me: What has your path to publication been like?
Mark: It's been difficult. I've gone back and forth between using an agent and submitting to small publishers that take direct submissions. Early on I had an agent who turned out to be useless, so by the time I'd realized that I'd written Dark as Night, which was my fourth novel. I sent it to some of those small presses, and the good guys at the now-defunct Uglytown loved it and decided to publish it. I had two other books under contract with Uglytown when they went out of business. After they did, I started searching and found a respectable New York literary agent. He shopped my work around for a while, but wasn't ever able to get a publisher to bite. He was an older man, and he passed away at the beginning of last year. At the end of the year I was contacted by a filmmaker who was interested in buying the movie rights to Dark as Night. I contacted Adam Chromy, an agent whom I'd been in touch with over the years, and asked him to work out the movie deal for me. He had started The Rogue Reader, which published suspense fiction as e-books, and he invited me to publish with them. So last March we re-released Dark as Night as an e-book, along with Killer's Coda, which hadn't previously been published. Now it looks like The Rogue Reader isn't going to publish anymore, so I'm back to thinking about other presses.
Me: Writing obviously has many ups and downs. Could you share one of the "downs" that you feel has impacted you in your career? Did you want to give up ever?
Mark: The biggest downer is the struggle to find a publisher. You pour your heart into you work, and you want people to read it, but you can't find anyone to take a chance on you. What's even more frustrating is to see some of the awful things that do get published. As difficult as all that is, it never made me want to give up. You have to write because you love it, because you feel the need to do it, because you have a passion for it. To do it for any other reason is a mistake. You have to plug away at it, hone your craft, and hope that someday you'll get recognized.
Me: And on the flip side of that, what is a moment of kindness or support you have received during your career that has really stuck with you?
Mark: That's easy. I recently have gotten to know and become friends with Loren Kleinman (http://lorenkleinman.com/), who has been incredibly kind and supportive of my writing. Her interest and enthusiasm mean a lot to me and have really re-energized me in regards to my work. Thanks, Loren!
What a compliment! This is exactly what inspired this blog – the writer to writer connection. We are a community who should support and uplift each other, because it is a hard business and clearly we are all crazy. So let's just be crazy together. Words of support and kindness have such an impact. Why not spread that around? Share your story with others. Someone might just need to hear it.
If you would like to visit Mark T. Conard places and not Mark Conard places, here is the correct information…
Website: markconard.com
Twitter: https://twitter.com/MarkTConard
Facebook: https://www.facebook.com/mtconard